Free Runner is the eighth episode of Series 7.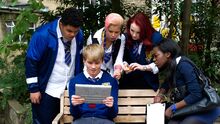 Previous Episode: Return of the Dark Wizard
Next Episode: League of the Mata Hari
Dan infiltrates a Guardian Angels style parkour groups of vigilantes, who are suspected of committing untraceable crimes. Dan is drawn into the world of the Guardian Runners, but when he's faced with the reality of who his heroes really are, Dan is forced to choose. Meanwhile, Stella arrives to conduct an MI9 annual assessment at St Hearts, to see how the MI High team behave above ground.