Felicity (Lady J) is a student at St Hearts.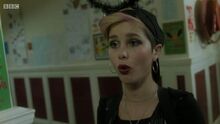 Biography
Edit
She loves dancing and is usually seen with her posse or Roly. She is often trying to get people to join her dance crew, including Dan and Aneisha in The Mayze and Mrs King in Return of the Dark Wizard. She also created Street Morris, a fusion of Street dancing and Morris dancing.
She is friendly with Aneisha, who joined her crew in The Problem Probe. She nicknames Aneisha Dame A and calls Mrs King 'the Babylon' for telling Aneisha off.
Lady J is overall a funny person. She speaks in slang all the time and even wrote a letter to the Education Minister once complaining about the school, Mrs King and how the teachers don't listen to her ideas! It is estimated that Lady J is in Year 11 and is 16 years old.
Despite not appearing in Series 6, Lady J has been at St Hearts for a while, as only Preston was new to the school in The Mayze and Aneisha seemed to be quite friendly towards her.
She enjoys Street Morris dancing.
She seems to like Mrs King, as she wrote a poem about how nice she was, despite writing a letter of complaint to the Education Minister in The Problem Probe.
Roly and Lady J are best friends.