Mission: Incredible is the fifth episode of Series 6.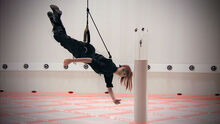 Previous Episode: The Face of Revenge
Next Episode: The Hive
The team are given their first international assignment in the rouge state of Boldovia where the local secret service has developed a data mining device capable of destroying MI9. On a high octane mission in a foreign land where nothing is what it seems and no one can be trusted, the team must succeed or risk the destruction of MI9.
The method used to expose Janus as a KORPS agent is similar to that used in Mission Impossible, when they needed to convince someone that a senior official had changed sides.
The theft is similar to the first Mission Impossible film.
The title is a reference to Mission Impossible.
The Boldovian cheese rock is a parody of rock, a British boiled sweet commonly found in seaside towns such as Brighton.