Sad Men is the tenth episode of Series 7.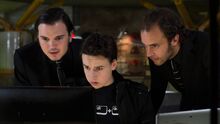 Previous Episode: League of the Mata Hari
Next Episode: The Problem Probe
A mysterious anti capitalist, the 99p, is threatening to bring down the value of the global economy by stealing an MI9 device that can take control of all telecommunications devices. Trying to stop the 99p, the team discover a surprising sinister link to the advertising agency that re branded Hamish and has installed billboards at St Hearts, under the orders of Mrs King. Meanwhile, Preston protests against the advertising and Mr Flatley looks for ways to advertise the school to potential new students.
Preston references the Occupy Movement.