The Final Endgame is the thirteenth and final episode of Series 6.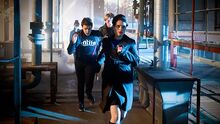 Previous Episode: Inheritance
Next Episode: The Mayze
Pieces of the jigsaw puzzle begin to fall into place when the team finally discover the grand scheme KORPS has spent the last ten years building towards. Zoe is kidnapped by KORPS and is revealed to be one of the many clones of The Mastermind. KORPS want to put his consciousness inside her brain, believing that she's the only perfect match. The team must find Zoe and stop the mind transfer.