The Hive is the sixth episode of Series 6.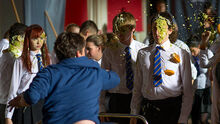 Previous Episode: Mission: Incredible
Next Episode: Old School
On a campaign to get kids eating more healthily and concentrate at school, St Hearts is chosen by celebrity chef Jimmy Jubbly as a test bed for his new health drink - Jubblyade. But Aneisha is quick to discover that it is affecting everyone's behavior, making them operate with a hive mind.
Despite KORPS' interest in Zoe, The Crime Minister cannot recognize her in person. This also occurs in Trojan KORPS.
McNab's lesson at the beginning of the episode is about the hive mind in insect communities.
The TV report scrolling bar makes a reference to Calvin Klein.
Aneisha Jones mentions her aunt, later revealed to be Mrs King in The Mayze.