The Last Stand is the thirteenth and final episode of Series 7.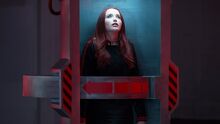 Previous Episode: We Need to Talk About KORTEX
Next Episode: None
The agents are on the run and St Hearts itself is under threat. To stop KORPS taking total control of the UK, the team must locate and destroy The Heart, KORPS' super computer. But The Crime Minister and her army stand in their way. With the stakes high, their only option is to take the war with KORPS, but is sacrificing Keri to The Mastermind the only way to prevent the end of the world as we know it?