The Mayze is the first episode of Series 7.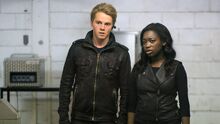 Previous Episode: The Final Endgame
Next Episode: Frankenstein
It's a new term at St Hearts and with Zoe still away, Frank tasks the team with the mission of tracking down one of Zoe's sisters, Keri, who is the new intended host of The Mastermind. The team find Keri, who tells them about another sister, Libi. Keri leads them to KORPS underground base, where they find Libi. However, Linus Currie has a machine that can make the walls move and it looks as if there is no hope left for the team. Keri defeats Currie and the team escape. To Dan's disappointment, Keri is then instated as an MI High spy. Meanwhile, new student Preston is trying to turn the school eco friendly, despite protests from Lady J, Frank and Roly. Also, Mrs King becomes the new Deputy Head.
The Mayze resembles the Labyrinth, with Keri's video phone acting as a rope map.
STERNUM, SKOTOMA, VIZION and KORTEX are the KORPS divisions featured.
The Mastermind orders the activation of KORTEX.
KORPS have a new scientist general, Linus Currie.
This episode is the first appearance of Linus Currie Keri Summers, Mrs King, Lady J and Preston.
This is the first mention of Keri's friend Trina, who is frequently mentioned but never seen.