The Problem Probe is the eleventh episode of Series 7.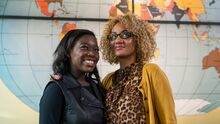 Previous Episode: Sad Men
Next Episode: We Need to Talk About KORTEX
KORPS have abducted the country's most famous agony aunt, Mandy Pluckley. In addition to solving teenager's problems, she's a trusted confidant of the Prime Minister, so the team must get her back before KORPS persuade her to give up all the state secrets. Meanwhile, Mrs King finds out that one of the students has written a complaint about her and vows to find the culprit.
Mrs King and Mr Flatley (unknowingly) use the good cop, bad cop interrogation method.
This episode ended with a cliff hanger, like episode 11 of the previous series (Prison Break).
MI9 learns of KORTEX.
Mandy does a profile on The Crime Minister.
MI High is shut down at the end of the episode.