The Shadow Games is the fifth episode of Series 7.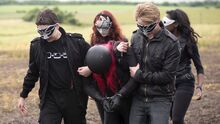 Previous Episode: Revenge is Sweet
Next Episode: The Beginning
During a successful MI9 mission to secure SKAPULA assassin Samantha Stiletto, a series of unfortunate events leads to KORPS mistaking Keri for the assassin. She must take Samantha's place in the world's most deadly tournament, the Shadow Games, where the winner becomes the new Shadow Master. The team's only chance of rescuing her is to rely on ex Shadow Master, Alexis von Hades, who's far from trustworthy. Meanwhile, the St Hearts students end up watching the Shadow Games.